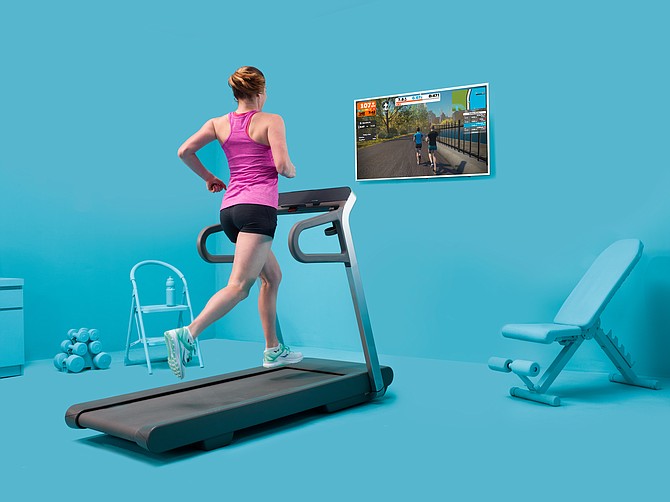 Zwift Inc., the Long Beach-based maker of a popular at-home cycling and running app, has raised $450 million in Series C funding.

The round was led by investment giant Kohlberg Kravis Roberts & Co. with participation from existing investors True Capital Ltd., Highland Europe, Novator Partners and Causeway Media Partners.

New investors Permira Advisers Ltd., Specialized Bicycle Components Inc., Zone 5 Ventures and Amazon.com Inc.'s Alexa Fund also joined in the round.

Zwift's platform allows users to run or cycle virtually with others from around the world. It can be used on tablets, laptops, smart TVs and other devices in combination with most stationary cycles and treadmills.

The company's platform combines elements of gaming and social media in an attempt to make fitness or training more enjoyable experiences.

According to a spokesperson, Zwift intends to use a portion of the Series C funds to double-down on that gaming focus. "Zwift was created by gamers who wanted to make something universally dreaded (into something) fun," the spokesperson said. "Gamification is a core part of what we are. … This investment allows us to continue further down that path."

As part of this push, the company has brought on Ilkka Paananen, co-founder and chief executive of Finnish mobile gaming giant Supercell, as an investor and independent board member.

"Zwift is uniquely positioned to lead the way and grow a new global fitness community, combining video gaming and sports, two of my great passions," Paananen said in a statement.

Zwift also intends to use the new funding to expand into the hardware space. This could include items like Zwift-branded cycles and treadmills although the company spokesperson said it was too early to say for certain what shape these moves would take.

One of Zwift's selling points has been its flexibility for use with users' existing stationary cycle or treadmill equipment. The Zwift representative said that would not change, but rather the new hardware would offer a more direct "plug-and-play" experience for those without their own equipment.

At-home fitness as a sector has taken off amid the Covid-19 pandemic. Lockdowns have driven ballooning demand for companies like home-exercise business Peloton Interactive Inc., whose share price has more than doubled since the start of this year.

Zwift has also experienced a pandemic boost, according to the company spokesperson, helping flatten the seasonal dip the business typically sees during the summer months.

The company also hosted the first official virtual Tour De France in July, featuring many of the world's top cyclists in an event broadcast to 130 countries.

Later this year, Zwift is set to host the first UCI Cycling Esports World Championships with Union Cycliste Internationale — the global governing body for competitive cycling.
For reprint and licensing requests for this article, CLICK HERE.