Going into its fourth year, startup AdvMeds provides consolidated medical information services with a focus on leveraging information and communications technology (ICT) advances to integrate medical and healthcare services and deliver AI-enabled smart solutions. By providing and promoting access to medical information, AdvMeds helps partners improve the quality and performance of their medical and healthcare services. Its customer base currently comprises hospitals, medical care institutions, insurance firms, healthcare product manufacturers and healthcare service providers. Its market footprint now includes 12 countries and regions around the world.
According to Johnson Huang, general manager of AdvMeds, since its creation in 1995, Taiwan's National Health Insurance (NHI) program has achieved impressive results that the rest of the world is envious of. Boasting a 99.5% satisfaction rate, the program is advancing toward precision medicine and looks to export Taiwan's smart healthcare technologies. The AdvMeds team has created a spectrum of solutions based on its years of experiences in developing and promoting medical systems. Extending from a data hub, AdvMeds offers wide-ranging products that cater to a variety of user requirements and use scenarios, including: mHIS, a cloud-based hospital information system; and LinkBox, a health AIoT device that collects lifestyle data of patients or community residents and connects with vendors in the "Big Health" industry such as assistive device makers or dietary supplement suppliers for cross-industry collaborations that create new business opportunities.
To address the situation where medical care is largely provided in hospitals and becomes hardly accessible after patients leave hospitals, Huang said its team has developed a solution that aggregates patients' self-measured physiological data such as blood pressure and blood sugar levels from 255 nodes on the network connecting home care and health AIoT devices. By conducting AI-based analyses on the data collected at communities, the solution can issue medical care alerts and help patients complete measurement charts. It can serve as a basis for tailor-made healthcare services and health education video delivery. Several hospitals located in Kaohsiung, Pingtung and Penghu have put the solution to use.
AdvMeds' platform currently has 230,000 registered members and 150,000 of them are active, according to Huang. Through a diversity of collaboration models, the platform enables a myriad of extended services including insurance, healthcare and physical examination referral. Its smart AI-based analyses allow precise dissemination of information. Tailored services targeting patients with chronic diseases, health education videos played on smart robots and online health education courses are also available to reduce hospitals' needs for human resources so AdvMeds' solutions are enthusiastically embraced by medical care institutions.
Expanding into Thailand and Malaysia, AdvMeds bridges the digital divide in healthcare
With the assistance from the Smart City Development Projects Office, Industrial Development Bureau (IDB), Ministry of Economic Affairs (MOEA), AdvMeds has initiated efforts toward Southeast Asian markets, where medical information is still largely paper-based and software-enabled services need time to develop. For the time being, AdvMeds chooses to target partnership opportunities in Thailand and Malaysia, according to Huang. In Thailand, it is working with medical universities and Bangkok Hospital to use its health kiosk solution for blood alcohol testing and COVID-19 screening and management. AdvMeds has exported 200 devices amounting to an impressive NT$60 million in revenue during phase-one collaboration.
In Malaysia, AdvMeds is working with an insurance company on a proof-of-concept solution that offers services to encourage individuals to take actions on improving their health, sid Haung. Incentives such as deductions in insurance premiums are offered to individuals who reach their goals. Such solutions can also be introduced to Taiwan-based insurance firms that offer similar health insurance policies.
The AdvMeds team participated in Taiwan's electronic medical records project and has been actively driving ICT advances for hospitals and non-governmental organizations. Huang said he took part in multiple AIDS information system projects in Africa and WHO's tuberculosis control project. They now endeavor to join efforts across Taiwan's healthcare sector to bring what Taiwan has achieved with medical data aggregation to Southeast Asian countries through cloud-based platforms. For a long-term goal, they look to partner up with suppliers of assistive devices, ventilators, pulse oximeters and dietary supplements to foray into emerging markets. AdvMeds aims to bridge the digital divide in healthcare by improving and boosting people's quality of life through technology and particularly targeting medical information applications and technology development for remote villages, underprivileged communities and developing countries.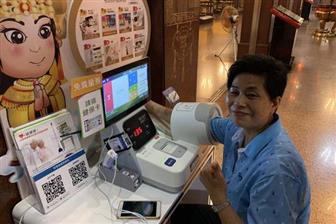 AdvMeds-developed smart medical services solutions
Photo: Company