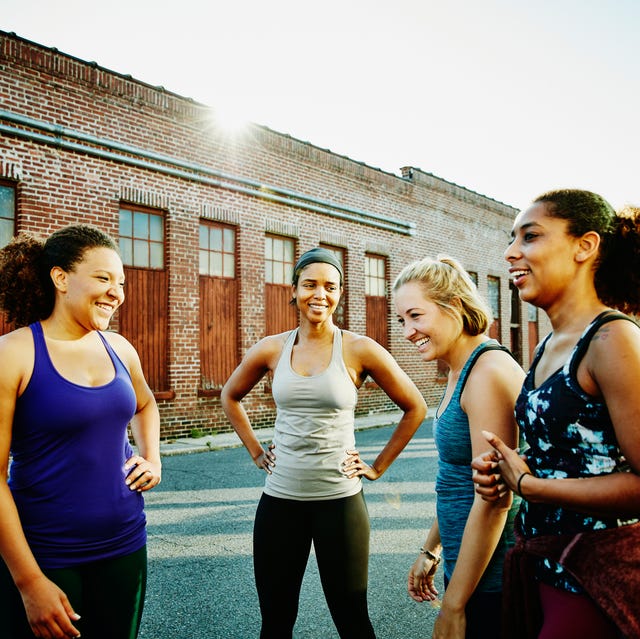 Thomas BarwickGetty Images
I'm going to keep it real: the mainstream image of "fit" is too narrow. Literally. We still live in a world where being perfectly thin and toned with a six pack is the pinnacle. And while fitness should be accessible to everybody, most of these images don't represent every body. They largely leave out people of different sizes, genders, abilities, races, ages, and other identities. The push to achieve this fit ideal can overly-dominate gym culture, causing many to feel excluded from the community, to harshly judge themselves and others, ignore their body's boundaries, or avoid the gym altogether (just to name some potential harms).
Thankfully, there are many gyms looking to create more inclusive spaces so that anyone who walks through their door feels welcomed. But since "inclusivity" is such a buzz word nowadays, it can be tough to decipher which organizations are actively mindful in the mission or simply putting up a rainbow flag for show. To help navigate, it's important to be clear on what "inclusive" means.
"For me an inclusive fitness space means having trainers who respect and honor pronouns and educate themselves on how body and gender dysphoria can show up in each individual," says Ilya Parker, P.T.A., C.M.E.S, a social justice advocate and the owner of Decolonizing Fitness. "It means having practitioners to provide safe and supportive environments where all clients feel cared for and respected. It also means creating an environment of accountability."
One good example of gauging an organization's sense of accountability is seeing diversity among their leadership and reading what's written in their policies, says Chrissy King, a strength coach and creator of the Body Liberation Project. "I think it's really important to have a clear anti-racism and diversity inclusion policy," she says. "Setting up the understanding of the community agreements for people that are coming into the space as members or staff matters a lot."
There are also a lot of other factors these gyms consider when it comes to creating a more inclusive environment such as having gender-neutral bathrooms and equipment for people with disabilities, King adds. However, its vital to be aware that even when gyms make the effort to build more welcoming environments, there's no way to guarantee that every person will feel completely safe and supported. So it's good to have options to explore which communities are best for your body, mind, and spirit.
To narrow your search, I've found 20 incredible fitness organizations who are dedicated to inclusion and flipping the "fit" script. Here's to celebrating all bodies and all the ways they like to move!
Advertisement – Continue Reading Below
1
Radically Fit Oakland
Location: Oakland, CA
This Bay Area gym is focused on providing offerings for "all queer, trans, POC, big bodied, and fat identified folx and their allies, regardless of experience or ability." Radically Fit currently has online classes such as Trans/Gender Non-Conforming Body Alignment, Embodied Dance, strength and conditioning for BBQ's (Black and Brown Queers). They also offer sliding scale memberships.
2
The Fit In
Location: Brooklyn, NY
The Fit In is all about community and treating everyone like family. This Black-owned space features many BIPOC women instructors who specialize in Pilates, HIIT, and other modalities. My favorite part about their classes is the music. Prepare to get down to Beyoncé, some Afro pop, or 90s hip hop when you hit your squats.
3
Everybody Los Angeles
Location: Los Angeles
Everybody Los Angeles has nearly everything, including an outdoor gym patio with battle ropes, weights, stationary bikes, and more. They have a wide variety of online classes, too, like Pilates, yoga, dance aerobics, and strengthening. They have sliding scale memberships, which is in alignment with their mission to create affordable, accessible, and adaptive fitness offerings for all.
4
Nonnormative Body Club
Location: Philadelphia
Founded by certified personal trainer, Asher Freeman, the intention of this group is to is "to remind people that our bodies belong to us, and we have every right to inhabit, nourish, and celebrate them as they are." They offer virtual personal training and virtual group classes such as: Mobility Mondays and bodyweight circuit training. There are also trans wellness resources as well as a database of other home workout offerings by BIPOC, trans, fat, and disabled trainers.
5
joyn
Location: Online
joyn has a bunch of body positive classes that not only look like a ton of fun, you can do them in the comfort of your home. They have kickboxing, yoga, dance, meditation, and more. If you want to try what they have to offer, some of their classes are free. I don't know about you, but have my eye on "Intro to Waacking."
6
Autonomy Movement
Location: Austin, TX
This wellness initiative is a size-inclusive, body-positive fitness studio. It was founded by Kim Gould, a licensed therapist who specializes in eating disorders and body image issues. In their classes, the instructors are trained in autonomy-specific motivational language to teach in a mindful way. Autonomy Movement also offers personal training, mental health counseling, and intuitive movement resources.
7
Body Image for Justice
Location: Jamaica Plain, MA
Justice Roe Williams started BI4J to gather the LGBTQIA community together to support the health and well-being of its members. Williams hosts workshops and is currently teaching bodybuilding and strength classes.
8
13th Flow
Location: Chicago
13th Flow is run by some of the most intelligent, socially-minded, coaches in the midwest: former pro CrossFit athlete and social worker, Elisabeth Akinwale and longtime strength and conditioning coach Kevin Brathwaithe. Their gym is focused on functional training with fluidity by meeting each individual where they are at, physically, mentally, and emotionally. Right now, 13th Flow has online programming for $13 a month and online classes.
9
Decolonizing Fitness
Location: Online
Decolonizing Fitness is not a gym, but an incredible resource for people to find queer and trans affirming spaces. They also provide tons of information for coaches, trainers, gym owners, and other people who are interested in unlearning toxic fitness culture.
10
Strive and Uplift
Location: Seattle, WA and Boulder, CO
Strive and Uplift is a strength and conditioning community that is focused on working with individuals at all fitness levels. They are dedicated to using non-gendered language while actively taking feedback from members to shape the values of the gym culture. Strive and Uplift has a variety of courses from bodyweight flows to kettlebell training. They also offer a sliding scale program for memberships.
11
Women's Strength Coalition
Location: Online
The Women's Strength Coalition has been a force in the powerlifting community by pushing for the creation of spaces where everyone can #SharethePlatform. They've hosted fundraising powerlifting meets all over the country to give to social-justice oriented nonprofits, and even started a woman-owned gym called Strength for All in NYC. They are currently not offering any classes, however, their website has a decent directory of affiliate gyms who are aligned with WSC's mission.
12
Dean Crossfit
Location: Brooklyn, NY
This Black-owned box is passionate about health and wellness as well as social justice. Unlike a lot of CrossFit gyms, they offer classes at different levels so that athletes at various fitness degrees can participate in a way they are most comfortable. They have a beautiful outdoor space, as well as a highly-equipped indoor facility. If you're more interested in working out in your living room, then Dean CrossFit also has something for you, too.
13
PUSH Fitness
Location: Salem, OR
This studio is for the moms! The instructors at PUSH specialize in prenatal and postnatal fitness, all the while celebrating this beautiful phase in life. They currently offer personal training, strength, Kinstretch classes, and more.
14
The Underbelly
Location: Online
The Underbelly was founded by the renowned Jessamyn Stanley, a yoga teacher and body positivity advocate. Here you can select from countless flows taught by Stanley herself, and it only costs $9.99 a month!
15
BLAQUE
Location: NYC
BLAQUE is seeking to create a boutique fitness space that is welcoming to all, but centers around the BIPOC experience. While they are not offering classes at the moment (you can only join their waitlist), their Instagram features plenty of movement tips, health and culture conversations, as well as beautiful pictures Black and Brown people living their best lives.
16
DANCE CHURCH
Location: Online
When I tried DANCE CHURCH for the first time, I felt like at child at play. Their guided improvisation dance classes are a space where you can truly let go and be who you are — all the while breaking a sweat. It's pure jubilee. Join in.
17
the be.come project
Location: Online
The people of the be.come project believe that you should workout because you love your body, not because you're trying to fix that or shed this. This online program is "a body-neutral, I-can-do-it, go-on-and-love-yourself approach to boutique fitness in an accessible 25-minute routine." Each week, you practice the same routine so you can master the movements and enhance your mind/body connection. You can join for $35 a month.
18
solcana fitness
Location: Minneapolis
The three pillars of Solcana Fitness are: joyful health, community, and accountability. It's a functional training gym that is queer-friendly and social justice oriented. One of the latest online workshops is focused on helping people break away from harmful diet culture and embracing the awesomeness of your own body. Check out their page for virtual offerings and in-person classes.
19
Pop Gym
Location: NYC

Pop Gym is centered on empowering people not just in fitness but in their daily lives. They offer various types of programming at little to no cost such as yoga, self-defense, and deescalation workshops. They also have a bunch of health and wellness resources for the LGBTQIA community such as a directory of friendly facilities to train and exercise.
20
GumboFit
Location: Chicago
If you're a runner in Chi-town, you want to check this group out. The Nike-sponsored team of running enthusiasts are empowering BIPOC of all levels on the track, the trails, and the streets. The other cool thing about GumboFit is that they have their own media brand dedicated to exploring culture and politics within the Black diaspora. If you're curious about running with them, here's the good news: it doesn't cost anything to sign up.
This content is created and maintained by a third party, and imported onto this page to help users provide their email addresses. You may be able to find more information about this and similar content at piano.io
Advertisement – Continue Reading Below